Mama Alto: Songbird Vinyl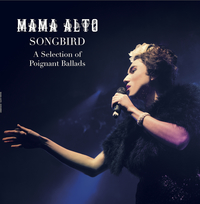 Stock information
: $35

.00

(AUD)

: consignment
:
:
:
:
: MAMAV1
: 35.0
: consignment
:
: general
MAMAV1
Description
After six years of acclaimed cabaret performances, diva Mama Alto and her musical directress Miss Chief spent November 2016 in an extraordinary entirely analogue recording facility for vinyl records, Alex Bennett's Sound Recordings. Recorded live to tape on original vintage sound equipment - including an actual machine used by Nat King Cole himself at Capitol Records, and an RCA microphone of the kind favoured by Sarah Vaughan - the result is a stunning capture of their best loved song interpretations from their extensive jazz repertoire, released across a four record anthology.
www.mamaalto.com facebook.com/mamaalto Twitter @MamaAlto Instagram @mama.alto
SONGBIRD:
As singers, the ballad holds a special place in our art and in our hearts. The almost limitless interpretations and possibilities within a well written piece - be they present in the lyric, the melody, or in hidden subtexts - seem to be waiting, layer upon layer, to be unearthed and indulged, like an archaeology of the soul, or a delicate and fine dessert with intriguing and tantalising aftertastes. These layers of meaning and of feeling are central to the art of cabaret singing, but also connect to my belief that our feelings and emotions are incredibly important and hold radical possibilities. In a society that discounts feelings, vulnerability and empathy all too often, the role of the singer, the diva, the songbird, is to use music to hold space for our emotions and our humanity. The song allows singer and listener to express, experience and comprehend a depth and intensity of emotion that might otherwise be taboo - and in doing so, lights the way to a more hopeful tomorrow.