Browse by category
OPENING HOURS




10am to 5pm

Mon to Sat

11.30am to 5pm Sunday

Shop online 24hrs

*Hours are often longer than advertised call us prior to your visit to find out.
SUBSCRIBE TO NEWS
Our eNews bulletin offers up-to-date information on books and literary cuture, as well as film and other giveaways and events by Hares & Hyenas.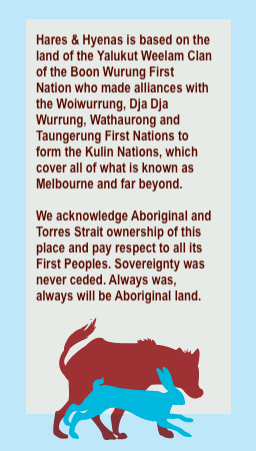 This community bookshop specialises in queer identity, sexuality, sex and gender diversity. Intersecting social factors such as gender, class, race and cultural background are used to develop a broad collection of titles based on contemporary lived experience outside the heteronormative mainstream. Put simply? We're queer.

Hares & Hyenas at Victorian Pride Centre is Now Open

(although chaotic!)

10am to 5:30pm — Mon to Sat

11.30am to 5:30pm — Sunday

Hares & Hyenas Fitzroy is transitioning

A year ago our lead story in eNews was the announcement of our move to the Victorian Pride Centre. We expected to open there by February. A year later the books and merchandise has been moved and we are off on the next adventure.

Hares & Hyenas has been trading as you have known it over the past 30 years, and is now trading in its 4th location at the beautiful Victorian Pride Centre.

But Fitzroy has not been abandoned. As Rowland brings the bookshop back to life in St Kilda, Crusader takes over the lease in Fitzroy to bring you Harehole Melbourne, continuing the venue and community aspects of our past 15 years there, with a sizeable and varied retail side to it, including books and merchandise.

Stay Safe, Stay Sane, Stay Strong, Stay Sexy

This is the location but it will look totally different once the fit-out is finished. Consider this a retrospective exhibition of furniture from 30 years of Hares & Hyenas.